LAUNCH SURPRISE ATTACKS AND ENJOY THE FUN WITH RC WATER BOMB TANK!
RC water bomb tank takes the fun of operating a remote control vehicle to a whole new level. This 4WD tank is designed for use both indoors and outdoors. It easily handles terrain like your floors and carpet, as well as grass, sand, and gravel. The tank can drive up to a 45-degree slope!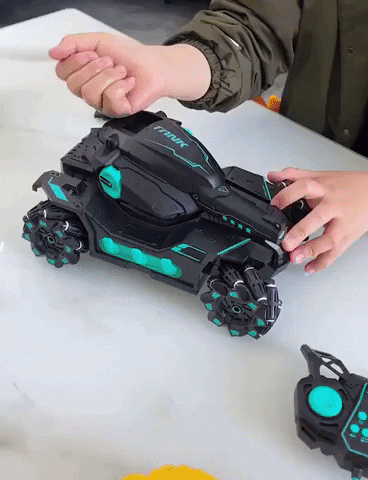 BENEFITS OF OUR WATER BOMB TANK:
 SUPERPOWER TO CONQUER VARIOUS TERRAINS: Four-wheel drive, making the speed and control smooth and limitless. With the built-in powerful motor, this RC tank can run on beaches, concrete, grass, stone paths, etc.
DUAL REMOTE CONTROL METHODS: 2.4G remote control and gesture sensor remote control, very sensitive, can be sensed by the motion sensor, bringing excellent operation experience, adults and children love to play.
FUNNY WITH WATER BOMB HIGH-SPEED BURST: Waterbomb launch is the main function of the RC car. A high-speed burst can be achieved via the remote control. 
BEST GIFT FOR BOYS AGE 5+: With this RC car, you can play with your kids, simulate military drills and war adventures, accompany your children in their growth.